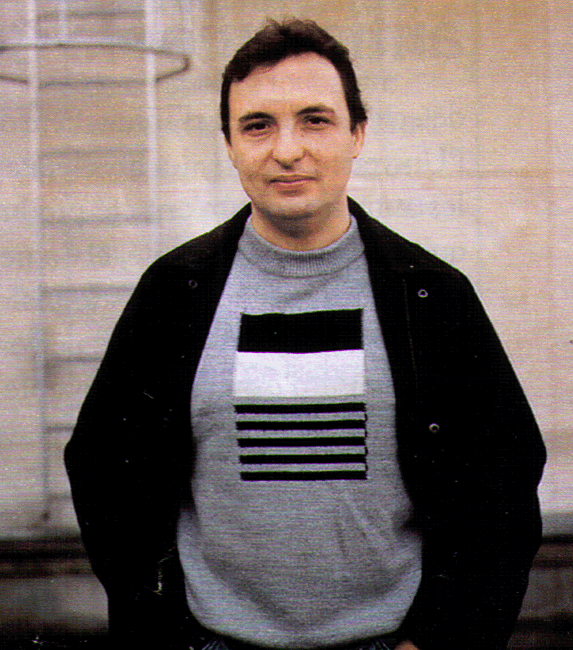 Cette décennie voit l'écroulement du plus grand désastre intellectuel de l'histoire de l'humanité : la théorie classique en cosmologie & astrophysique théorique autour du "modèle standard" et des "supercordes".
Cet effondrement prend
depuis plusieurs années
la forme d'un
affrontement
"à mort" (scientifiquement parlant) impliquant en particulier la personne de Alain Riazuelo (photo ci-contre). J'ai déjà mentionné
sur ce blog
son manque total de rigueur professionnelle et sa lâcheté dans le débat d'idées
contre Jean-Pierre Petit
et ses travaux en astrophysique.
Mr Riazuelo s'est trouvé placé en chantre du modèle standard du fait que le champion d'une théorie alternative était lui aussi français, du fait de sa position à l'IAP, et surtout parce qu'il a été piqué au vif par un lecteur, un citoyen qui lui demandait de faire son devoir et de commenter ces travaux originaux. C'est bien cette intrusion de la citoyenneté pour relancer un débat scientifique complètement bloqué qui est ici à souligner.
Depuis lors, cette position héritée de défenseur champion du modèle standard l'a poussé à prendre position de manière particulièrement véhémente contre les travaux de doctorat des frères Bogdanoff, puisque ce sont encore des français (décidément!). Pris dans une logique de "défenseur ultime" qui sacrifie sa propre éthique,
les frères Bogdanoff, devant les manoeuvres répréhensibles et répétées de Riazuelo
, ont décidé de porter plainte, ainsi que contre la revue Ciel et Espace qui est l'organe de presse au service exclusif des défenseurs du modèle cosmologique standard,
et qui ne s'en cache pas
. Le 14 mars dernier, les frères Bogdanoff ont gagné leur procès. Deuxième incursion de la société dans le débat scientifique, cette fois via un recours en justice. On est monté d'un cran.
Il est frappant de constater que
l'écroulement du modèle standard s'accélérant, on assiste désormais à un "appel à la patrie en danger"
. C'est ainsi qu'une
lettre ouverte de Ciel & Espace
recueillant 334 signatures de scientifiques vient d'être publiée.
Dès lors, il est facile d'identifier deux camps irréductibles :
ceux qui ont signé cette lettre, dans le camp de Mr Riazuelo, celui de la conservation de la "théorie d'avant"
tous les autres qui ne l'ont pas signé, et qui par leur action ou bien leur passivité veulent faire émerger un nouveau paradigme, la "théorie d'après", parce que le modèle standard n'explique plus rien des nouvelles observations... sans parler des supercordes qui en 30 ans de recherche n'ont jamais rien pu expliquer, et à commencer comment des milliers d'années homme de recherche fondamentale dans le monde entier (plus de 100 000 articles publiés!!) ont pu être dépensées dans une telle vacuité.
La confrontation entre les deux camps ne peut pas s'arrêter, et ne peut même que s'amplifier. Ceux qui ont signé cette lettre n'ont fait que rendre légitime l'existence du second camp, qui ne peut plus aujourd'hui être simplement ignoré. Malgré leur nombre apparent, ils se sont marginalisés dans une posture défensive qui met en lumière leur refus du vrai débat scientifique, transparent, comme le réclame Jean-Pierre Petit depuis des années. Dès lors, les jours du modèle cosmologique standard (et des supercordes) comme modèle dominant, ainsi que du pouvoir de mandarin de ceux qui le défendent, sont comptés. Les défenseurs emblématiques seront remplacés, les plus féroces isolés, pour permettre aux nouvelles idées de s'installer, et sortir enfin de l'ornière intellectuelle. La France a un devoir particulier en la matière. Ici aussi, notre école de pensée a rendez-vous avec l'Histoire.
Ainsi en va-t'il des mondes qui s'écroulent. Ce changement de paradigme, ici en astrophysique, est aussi à rapprocher de la fin du statu quo général qui a prévalu dans notre société occidentale depuis 1945. Le fait qu'il se déroule dans le champ scientifique est aussi un point d'orgue, puisqu'il met en lumière la capacité d'un système humain, sensé être le plus transparent et ouvert à la contradiction, de s'enfoncer dans une impasse pendant toute la durée de vie active d'une génération. C'est donc un indicateur pertinent pour nos travaux d'anticipation politique.
MAJ 25/05/2012 :
J'ai publié un autre billet pour expliquer le fondement de ma démarche : la
démocratie scientifique
.
MAJ 26/05/2012 :
MAJ 15/07/2015 :
a) S'ajoutant aux références qui existaient déjà, on peut citer :
A.D. Sakharov, ZhETF Pis'ma 5 : 32 ; JETP Lett. 5 : 24 (1967)
J.P. Petit, Univers jumeaux, énantiomorphes, à temps propres opposés

, CRAS du 23 mai 1977, t.284, Série A, pp. 1315-1318

(apparaît souvent dans les bibliographies sous la référence Univers énantiomorphes à flèches du temps opposés, CRAS du 8 mai 1977, t.285 pp. 1217-1221)
J.P. Petit, Univers en interaction avec leur image dans le miroir du temps, CRAS du 6 juin 1977, t.284, série A, pp. 1413-1416
A.D. Sakharov, ZhETF Pis'ma 76 : 1172 (1979) ; JETP 49 : 594 (1979)
A.D. Sakharov (1980), Cosmological Model of the Universe with a Time Vector Inversion, ZhETF (Tr. JETP 52, 349-351) (79): 689–693
A.D. Sakharov, Collected scientific works, Library of Congress Cataloging in publication Data, (1982)
J.P. Petit, Nuevo Cimento (1994)
J.P. Petit, Astrophysics and Space Science (1995)
les pre-prints d'autres articles de J.P. Petit publiés sur Arxiv (ceux qui restent sachant que d'autres ont été volontairement effacés sans avertissement ni explication par les administrateurs d'Arxiv contrairement à toutes leurs règles)
J.P. Petit and G. D'Agostini, Five Dimensional bigravity. New topological description of the Universe (2008)
et tous les écrits de vulgarisation scientifique avancée de J.P. Petit publiés depuis 1995 (geometricon, Tout est Relatif, topologicon, chronologicon, le trou noir, l'univers géméllaire, plus rapide que la lumière)
b) la percée historique du modèle cosmologique
JANUS
du Dr J.P. Petit est décuplée depuis septembre 2014. On en jugera avec les publications de premier plan scientifique suivantes :
Et devinez quoi? Immédiatement après ces dernières publications d'autres chercheurs,
ayant enfin
compris que le vent tournait, essaient de prendre péniblement la roue du leader, mais sans citer aucun de ses
travaux précédents
:
Identification of a Gravitational Arrow of Time, Julian Barbour, Tim Koslowski, and Flavio Mercati, PRL 113, 181101 (29 oct. 2014)
Negative mass bubbles in de Sitter space-time,

Saoussen Mbarek, M. B. Paranjape, Phys. Rev. D 90, 101502(R),

Nov. 2014
JP Petit a commenté comme ceci ces travaux:
Il existe, dans la littérature, des travaux concernant des modèles « bimétriques », qui n'ont rien à voir avec le nôtre. Dans ce cas la seconde métrique se réfère à des «gravitons » dotés d'une masse, et même dans certains cas d'un « spectre de masse ».
Et ce n'est que le début de l'effondrement que j'annonçais dans mon anticipation politique de 2012 :